So, a long while ago I created a recipe for this bacon spice blend specifically made to highlight the deliciousness of bacon. It was a controversial topic among my friends and family because bacon is generally considered to be a perfect food. It was almost as bad as the time that I admitted that I don't particularly like doughnuts. It was utter chaos; there were long talks, some yelling, but eventually, everyone came to terms with it.
But, I digress (shocker, I know.)
Back to bacon and spicing it up. The previous recipe linked above is a great way of enhancing bacon's savoriness, but I wanted something that really expanded bacon's natural adeptness for balancing savory, sweet, salty, and spicy in one fell swoop, so BBQ Bacon Spice was born.
I can just imagine this on some chocolate-dipped candied bacon, or crumbled and used to top a salad, or in a strikingly simple BLT. The possibilities are endless. Now I feel the urge to make more bacon-centric recipes to really let this bad boy shine.
Both this recipe and the original bacon spice recipe are best used on bacon that you bake in the oven, or after the final flip of your bacon. Meaning, don't just apply this to the raw bacon and stick it in a pan because the bacon will burn the spices. You want to either par cook it (meaning cook it partially) before adding the spice mixture or apply it via indirect heat by baking your bacon.
How do you cook bacon in the oven? I suppose I should have elaborated on that above, but you can actually bake your bacon to get easy-to-cook and yummy bacon. It's the perfect method if you're cooking a lot of bacon or you're making it as part of a larger, more time-consuming meal.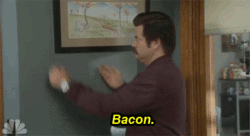 The process of baking bacon in the oven is very simple. Grab your sheet pan, line it with parchment paper or tin foil (trust me, this will help make cleanup easier later), and place a cooling rack on top. This is a cheap way of making a broiler pan with items you likely already have at home, but, feel free to use a fancy broiler pan if you have one.
From there, lay your bacon strips on top and bake them in an oven set to 350° F (176° C). The first time you make the bacon, you'll want to keep an eye on it to get the timing just right because the brand, thickness, and nature of your oven will play a significant role in how long your bacon needs to cook.
I'm a big fan of Kroger's thick-sliced bacon (the good stuff behind the meat counter), so I find that I need about 15 minutes each side for the bacon. If you're using a thinner brand, check it every 5 minutes or so. If you decide to use this spice mix on your bacon in a skillet, you want to cook it at a lower temp so you don't burn the sugar and spices. If you like your bacon extra crispy, add it after the first flip for the same reasons.
Ok, you probably know how to cook bacon, so whether you make oven-baked bacon (recommended), fry the bacon in a skillet, use your air fryer, or microwave bacon (look, I'm not judging, I'm just side-eyeing you), when you add this sweet and savory BBQ Bacon Spice blend, you're going to get something delicious.
BBQ Bacon Seasoning
Course: Any Time, Anywhere
Make this sweet and savory spice mix to add to bacon, meat, veggies, even popcorn!
Ingredients
1/4 cup granulated garlic powder

1/4 cup granulated onion powder

1 tablespoons pepper

1 tablespoon salt

2 tablespoons brown sugar

2 tablespoons chili powder

1 tablespoon ground cumin

½ teaspoon ground cayenne pepper (more for more spice)

2 tablespoons ground mustard
Directions
In a container with a tight-fitting lid or a Ziploc bag, add all ingredients.
Shake until well combined.
Sprinkle on uncooked bacon (or other food)
Notes
You can add an anti-caking agent like corn starch, or simply add a few dried beans to your container, they'll break up the spice and absorb extra moisture. This is especially important since we are using brown sugar in the recipe.